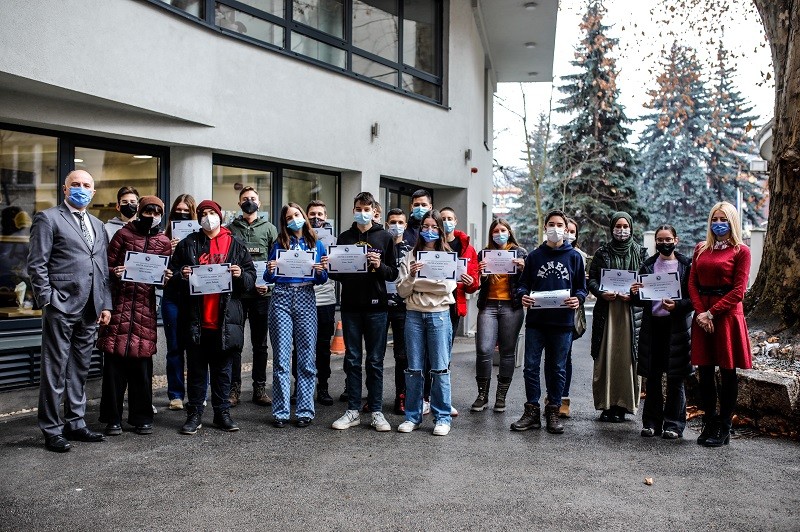 Jan 26, 2022
Winter Academy at the Gymnasium SSST was successfully completed.
Aware of the challenges of taking the final external exam and enrolling in high school, the administration and professors from the Gymnasium SSST organized another Winter Academy for all interested ninth grade elementary school students from 17 to 21 January 2022. Students from over twenty primary schools attended the Winter Academy at the Gymnasium SSST, in compliance with epidemiological regulations and measures. 
The Winter Academy gave students the opportunity to listen to lectures and do practical activities  in B/C/S language, English and Mathematics to begin their preparations for the final external exam. Through their innovative teaching methods as well as interactive exercises, teachers from the Gymnasium SSST enabled ninth grade students to solve their tasks as easily as possible and acquire the skills and knowledge needed to take these exams successfully. During the five-day lectures, students focused on the most important units from B/C/S language, English and Mathematics, acquired and expanded their knowledge and improved their skills. Attending the Winter Academy at the Gymnasium SSST had a positive effect on the students strengthening their interaction with peers and teachers from the GSSST, and increasing their self-confidence. Many interesting workshops (MUN, Arts, Geography, Chemistry, Science, IT, Chess, Performing Arts, Psychology and Sports club) that took place every day after lectures and exercises, where students could relax and have fun, also contributed to this after focusing on learning and exam preparations.  
On 21 January 2022, 38 certificates of successful completion of the Winter Academy were handed out to ninth grade students at the Gymnasium SSST.  
The staff of the Gymnasium SSST wishes the ninth grade students good luck in the second semester, excellent results in taking the final external exam and carefree enrollment in high school.  
Thank you all for your trust and wonderful opportunity to teach a new generation of high school students!