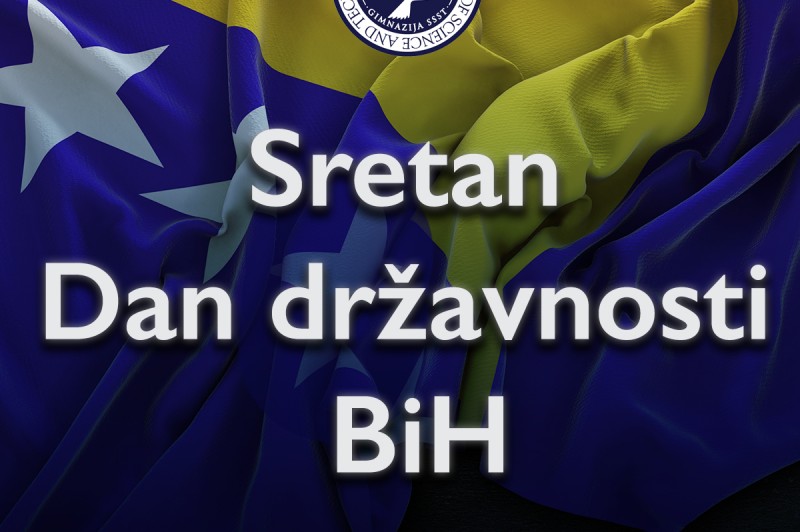 Nov 25, 2020
We marked Statehood Day
The Gymnasium SSST cherishes the tradition of celebrating important state holidays and preserving BH history. Due to the COVID-19 pandemic, this year we couldn't organize a Statehood Day ceremony at school.
Instead, our students prepared a video on this important date, looked back at the rich history of our country, and performed Jadranka Stojaković's song "Ko zna reći". The Gymnasium SSST principal used this opportunity to congratulate all students and faculty members on this important day. 

Members of Art Club also celebrated this day, by drawing, painting and designing works of art related to this topic, using different traditional and modern techniques. Members of  History Club looked back at the history of B&H since ZAVNOBIH .  
Student  Emir Jusufbegović wrote a poem "Statehood Day". You can read it below.

Dan Državnosti Bosne i Hercegovine

Kroz sve muke prošla si, o mila.
Kroz sve tegobe prošla si, državo.
Da ti kažem, iako nisam niti nobelovac, niti sam na mjesec sletio.
Nisam dotakao svemir, niti nagradu od zlata, vrijednu pohvale.
Ali, tebe sam se, jedne jedine, ove noći sjetio.
Sjetio sam se junačkih ruku što su život za tvoj suverenitet dale.
Kroz sve patnje išla si, domovino.
Samo gazija znade šta Bosna heroju znači.
Sve granice tvoje su rezultat herojstva i odvažnosti.
Neće dušmanin mojima ljiljanima i mojemu šeheru da napakosti.
Ali, tebi sam dao pjesmu jednu,
dao sam pjesmu o Hercegovini i Bosni.
Kroz suze i smijeh si prošla, europska heroino.
Kroz nemilost i nepravdu koračali su sinovi tvoji, domovino.
Nezavisna si, mila i planinama ukrašena,
ornamenti tvoji nisu samo Igman, Trebević i Bjelašnica.
Ukrasi tvoji su ono čime zoveš se,
Bosno, majko, nano, da li ćeš da odazoveš se?
Kroz neispavane noći prolazio je narod, junačka državo jedna.
Kroz sve ove stihove prođite, jer ko god čita, neka zna da je ona vrijedna.
Voljena si, u srce si došla.
Voljena si. Znaš da si prema dušama rodoljubnih pošla.
Sretna ti državnost, domovino moja.
Sretna li je na tebe spomen, da, baš tvoja.
Emir Jusufbegović