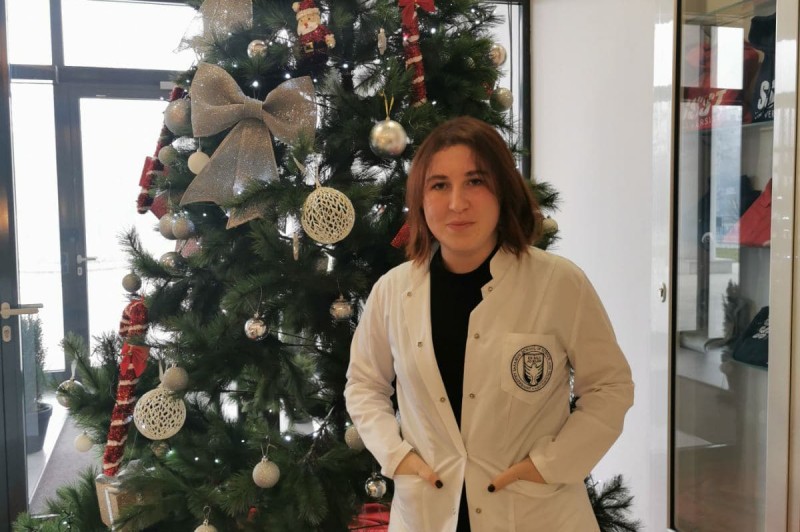 Dec 18, 2020
Semina Bureković: Why I chose Sarajevo Medical School at the SSST University
As a four-year student at Gymnasium SSST, Semina Bureković built the status of one of the most successful and engaged pupils of our school. From the very beginning, she showed her inclination towards natural science. Hence, in third grade, her orientation was Natural Science, where she would focus more on her favorite subjects: Biology, Chemistry, and Physics. In times like these, when we are in need of doctors and scientists more than ever, Semina enrolled in Sarajevo Medical School at the University of SSST. We do believe that Semina's time is yet to come and that we will be proud of her professional achievements. So far, she shared her experience of studying at the SSST University-Sarajevo Medical School.


What affected your decision to enroll in Medical School?

My decision to enroll into Medical School was based on many different factors. One of the major ones for me was the experience I had in Biology classes at Gymnasium SSST. Amina Agić Alijagić, professor of Biology, gravitated towards our true understanding, studying, realization, and reciprocal connection of the given academic units upon finishing our secondary education: and not to mere fact memorization. Throughout this kind of approach, towards us students and curriculum, I detected my own interest towards the study of the human body and mind. Moreover, the interconnectedness of the primary subjects and their curricula and the process of the Natural Science department at the Gymnasium SSST (Biology, Physics, and Chemistry), painted a picture of my future career in medical field.


Why did you decide to enroll into Sarajevo Medical School at the SSST University?

Considering the fact that during the period of my secondary education at Gymnasium SSST, I had an insight of the curriculum and the way of SSST University functioned, my decision to enroll into the same was a final one. I attended many conferences, lectures, and laboratory practices at SSST campus, where I met my present-day professors, lecturers, and students. Right, on one of these occasions organized by the University, I had a chance to partake in one workshop where the students shared their personal experiences with us pupils, on the study of medicine; and I was convinced that Sarajevo Medical School could offer exceptional conditions during the study of medical sciences.


Albeit, due to the epidemiological situation, you attend online classes, could you share your first experiences of the studies with us?

The very process of teaching at the University is adjusted to the current epidemiological situation, i.e. the lectures, practical classes and consultations are all being held virtually. It is essential for a student to have an updated book references and the access to additional sources of information; and to us students of the University, all of the above mentioned is enabled. Since we attend our lessons via virtual platforms, the true feeling and charm of studies is still unknown to us. However, with professors and students' effort, we take advantage of this extra time we would otherwise spend in practical classes, to prepare for exams and handling doubts amongst each other.


How do you cope and how accommodating are the professors?

I have to admit that, to us students, the transition from high school to college, in the midst of the pandemic COVID-19, has been even more difficult, in the light of the fact that collectively, we had to adapt to a teaching method that is unknown and alien to us. Moreover, the current work mode of the University, as of the other universities in Bosnia and Herzegovina and all over the world, is more or less a novelty, to students and lecturers, too. However, as I have already mentioned, the teaching conditions are at the level of the current situation and improvements could be seen on the horizon.


What subject has taken your interest the most so far?

Even though it is too early to say this with certainty, so far, I was impressed by Anatomy the most. Essentially, the charm and beauty of anatomy lies in the fact that precisely through it, we learn and discover about ourselves. Anatomy, as a discipline, has the goal to introduce us to the structure, form, and function of the human body; and to a medical student, it serves as a substrate and prelude for further years of studies and research in different fields of scientific study.


How much time do you take for studying and attending lectures?

The amount of time every student takes for studying and mastering a teaching unit is truly subjective, for a number of reasons. One of them, as I have previously mentioned, is that I, as a person with extraordinary basis, thanks to the Natural Science department at Gymnasium SSST, am able to divert the time I would usually spend on studying these foundations, to the material I have not met with, earlier. This fact has helped me a lot so far. In addition, I would not like my time I spend on studying to be a standard to other students, because we all have different ways and tempos of material acquiring. Having said all of this, I can earnestly answer that I lack five hours of sleep in existing twenty-four-hour day.


How much has your secondary education set the foundations for the study of medicine?

Judging by my momentary assessment, attending the Natural Science department at the Gymnasium SSST has laid extremely good foundations in respect of subjects such as Biology, Chemistry, and Physics, that I additionally master, further develop, and dubiously study, presently in my studies. Considering that, I have come across the majority of teaching units that are being worked on within the mentioned subject during the first year of study, and that I did not meet with any difficulties in the understanding of these, has led me to a conclusion that Natural Science orientation was truly the right choice for me. Furthermore, the fact that Gymnasium SSST is governed by the principle of Cambridge International Education program, which has the goal to interconnect knowledge and practical skills, furthermore, confirms that they are at the highest level of the task in the context of preparing a student for a higher education establishment.