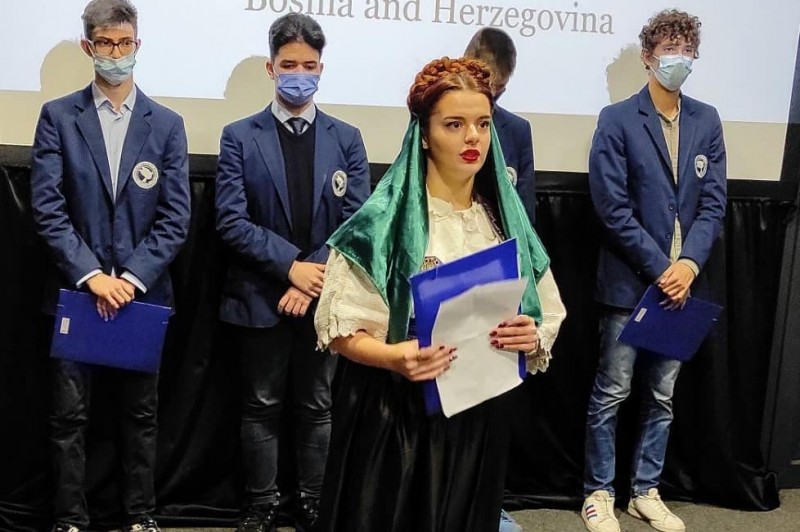 Nov 25, 2021
School performance for BiH Statehood Day!
The SSST Gymnasium marked BIH Statehood Day, 25 November with a special performance of our students at the school's cinema hall. The performance reminded us of the most important events in our country's rich history and strengthened our love and patriotism for our country.  
The program began with the intonation of the national anthem and the introductory remarks of student Amir Junuzović who reminded us of one of the most important events in the history of Bosnia and Herzegovina: the first session of ZAVNOBIH on 25 November 143 and the renewal of the statehood of Bosnia and Herzegovina.  
The President of the School Board, Mrs. Emina Ganić, spoke to the guests about the role of the youth in preserving Bosnia and Herzegovina.  
What makes a country are people and its aspirations. But what kind of people? What must we do to be good patriots, to be good citizens? The answer has to be: education! Our country has barely over 10 percent of highly educated citizens, much below the European standard. The community of those who can lead is small. The goal of education is not knowledge. It is for you to have the tools and understanding of what it means to bring about change and make that change happen. So be excellent at things that you do, feed your mind. This country is on our shoulders, we make it what it is going to be.  After the speech, the Performing Arts Club had their performance and our guests had the opportunity to hear the best essays written by our students about our country.  
Then we had the pleasure to listen to Mr. Zanin Berbić, an ethnomusicologist and sevdalinka artist, who spoke of sevdalinka as an art form and performed two sevdalinka songs.  
The SSST Gymnasium thanks all participants, students, and teachers for their contribution to this event.   
Happy Statehood Day!