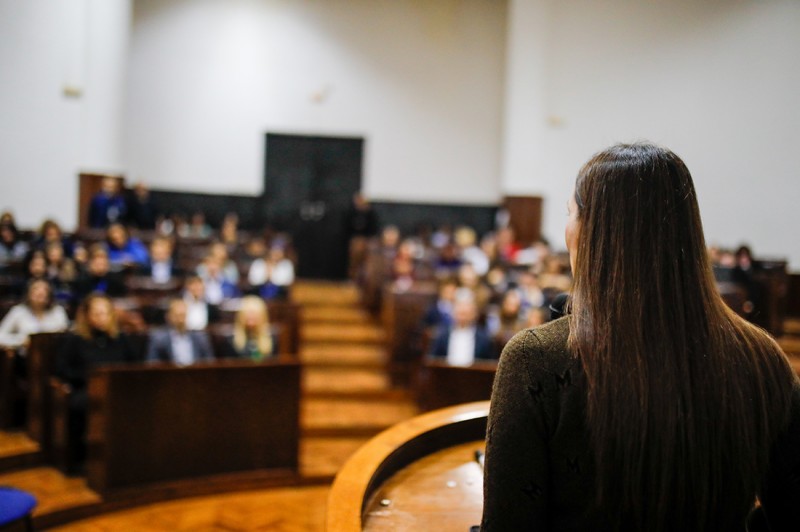 Oct 24, 2022
MUN conference
Gymnasium SSST was the proud host of this year's Model United Nations Student Conference (MUN), which was spearheaded by Alen Stovrag, a Form 2 student of our Gymnasium, and organised with the help of the hardworking students of Gymnasium SSST and other schools. The MUN conference took place from 14 to 16 October 2022 at the premises of our school, and hosted over 140 participants from 15 secondary schools in Sarajevo.  
The MUN  imitates the procedures of United Nations, where students, as delegates, attempt to find solutions to real-world problems by simulating the work of UN committees and procedures. The MUN simulation consists of negotiation, discussion, and lively debates.  
The conference was opened on Friday at the historic conference hall at our Gymnasium by the students – the representatives of the organizing team of the MUN conference - General Secretary Alen Stovrag and Deputy General Secretary Amina Cerović. Given the international nature of the event, delegates were then addressed by Head of the UN Resident Coordinator's Office in Bosnia and Herzegovina Mr. Jago Salmon, and the Deputy Ambassador of Italy Matteo Evangelista. At the very end, the Director of our Gymnasium, Mr. Senad Alić, and the Chair of the School Board, Emina Ganić, spoke and declared the MUN Conference officially open. 
The presentations and discussions of the participants led to very creative and progressive solutions, as well as models that can be used to improve social and global issues. We would like to thank all the students for their independent, professional and dedicated work in organising, coordinating and presenting the topics of this year's conference. Gymnasium SSST is proud and grateful for their initiative to organise an event at this level, and will support its students in such further efforts.  
Here are some photos from the Conference.