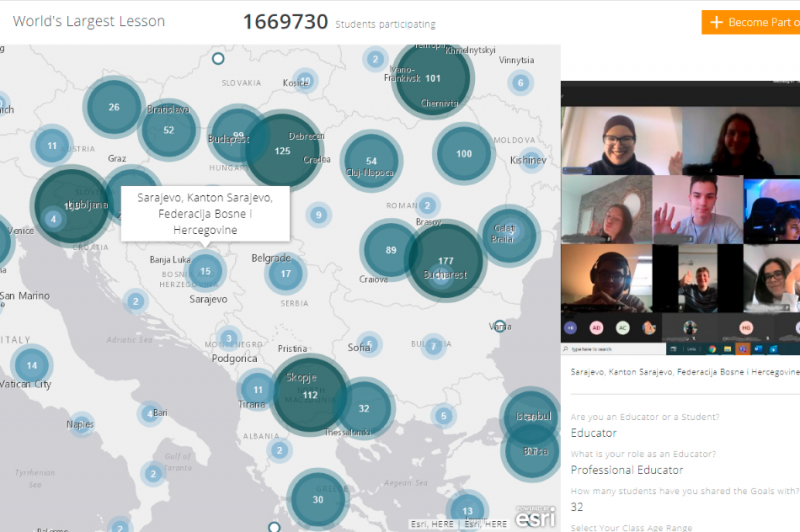 Apr 08, 2021
The first in Sarajevo: GSSST students took part in the "World's Largest Lesson"
Over the past two weeks, in English classes led by teacher Adna Pandžo, first-grade students of the SSST Gymnasium discussed the topic of environmental issues. In this discussion, they focused on Sustainable Development Goals. In their group work, they researched different environmental issues, their potential solutions, and how these problems are manifested in local communities in Bosnia and Herzegovina and around the world.

Through independent research and mutual collaboration, they learned about these important issues and developed their reading, writing, listening, and speaking skills. The final product of their work are digital posters that present the results of their research. 
This task was part of the World's Largest Lesson project, where students from around the world learn about the importance of Sustainable Development goals and their role in solving some of the most pressing global problems. By participating in this project, we became the first students from Sarajevo to join the global community of more than 1 600 000 students and teachers who are trying to make their contribution to positive change in the world around them. 
Congratulations to our students on a job well one! You can find their posters at the following links: 

https://www.canva.com/design/DAEZ2jYsqaM/c--xHDXEZYrnoxQqo2Iemg/view?utm_content=DAEZ2jYsqaM&utm_campaign=designshare&utm_medium=link&utm_source=sharebutton

https://www.canva.com/design/DAEZ2j7RhgY/AXBJy_Vrk8POQOtPFDvy4g/view?utm_content=DAEZ2j7RhgY&utm_campaign=designshare&utm_medium=link&utm_source=sharebutton

https://www.canva.com/design/DAEZxK1TKVM/UPLAcnX45m7HjL9MoQMVfw/view?utm_content=DAEZxK1TKVM&utm_campaign=designshare&utm_medium=link&utm_source=sharebutton

https://www.canva.com/design/DAEZ3r_Z38M/2BTftOlwQsoAK8mN5LpsOQ/view?utm_content=DAEZ3r_Z38M&utm_campaign=designshare&utm_medium=link&utm_source=sharebutton

https://www.canva.com/design/DAEZ2p2AXvc/HUeyGQtmFUedst4JJjy23Q/view?utm_content=DAEZ2p2AXvc&utm_campaign=designshare&utm_medium=link&utm_source=sharebutton

https://www.canva.com/design/DAEZxKEiYfY/m-nfcXkAgb5evYax43aMsw/view?utm_content=DAEZxKEiYfY&utm_campaign=designshare&utm_medium=link&utm_source=sharebutton

https://www.canva.com/design/DAEZ3hurLyc/CgLm1bpjjnHxiVJJVM8brw/view?utm_content=DAEZ3hurLyc&utm_campaign=designshare&utm_medium=link&utm_source=sharebutton

https://www.canva.com/design/DAEZ3m5MCJ4/Zp8moAMvuxryPa_ueUo77w/view?utm_content=DAEZ3m5MCJ4&utm_campaign=designshare&utm_medium=link&utm_source=sharebutton

https://www.canva.com/design/DAEZ2mBUsx0/p6e15d66yGKEm4zY0iDkMg/view?utm_content=DAEZ2mBUsx0&utm_campaign=designshare&utm_medium=link&utm_source=sharebutton